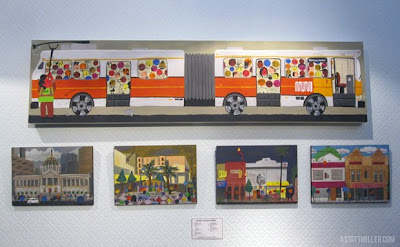 29th & Mission, Outer Mission.
24th & Mission, Taqueria El Farolito.
16th & Mission, Bart Station.
Van Ness & McAllister, City Hall.
Last Saturday was Fabric 8 Gallery's holiday art show. It was amazing to see such a compilation of artwork from 25 artists. There were over 100 pieces to see, it was a little overwhelming in person. I did a series of gouache paintings paying tribute to the main artery of SF, the 49 bus. It runs from edge of the bay on the north, to city college in the south. I have been doing the buses for about a year now, but I have not done the stops. I figured they would complement the big ol' bus. Plus Mission is a very exciting, crazy street, there is always something going off, I had to paint it!
The pieces are available through
Fabric 8 gallery.
Check it out if your in the area!!